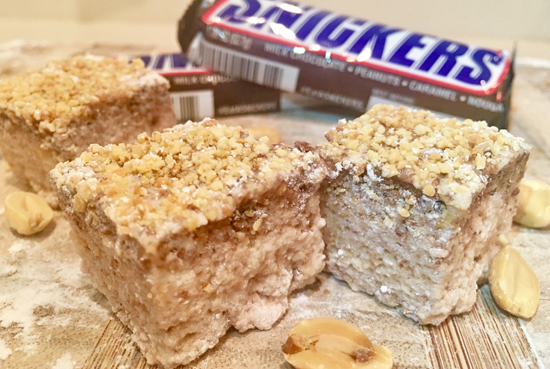 "Desserts made with marshmallows have surpassed cupcakes as the most popular treat"
Gourmet Marshmallows & Confections
What are your marshmallows made from?

Our marshmallows are made using only the highest quality, 100% natural ingredients. We use real fruit and top brand names such as Oreo®, Nutella® and Guiness® to add flavor but the base is made from Fiji® water, pure cane sugar, Madagascar vanilla bean, gelatin and salt.

How long do your marshmallows last?

Our marshmallows are shipped the same day they are made and will arrive within 2-3 days. They are best when consumed within 30 days. Once original packaging is open, you can keep them in an airtight container, although they will most likely be eaten way before that. You can also freeze them for up to 3 months.

What size are your marshmallows?

Our marshmallows are 1.25″x1.25″x1.25″

Do they melt like traditional marshmallows?

They melt and toast just like traditional marshmallows, although they do so quicker because they don't contain any chemical whipping agents.

Can I place my order now and have it delivered a few months from today for an upcoming event/party?

Sure, we can deliver your order at a later date. You'll be able to specify your preferred date during the checkout process.

What are the shipping costs?

USPS Priority live shipping rates will be reflected during checkout. Shipping is on us for orders over $75 on marshmallows and marshmallow pops only. For International shipping, please contact us prior to placing your order.

I'll need them for an upcoming event. Can you guarantee a timely delivery?

If your delivery is time-sensitive, please let us know in the "notes" when placing your order and we'll aim for your order to be delivered 1-2 days prior to your event.

Can I upgrade to Overnight shipping?

No sorry not at this time, as we only ship with USPS priority mail. This normally take 1-3 days for delivery. If  need them sooner, please let us know and we can try and speed up the production time, as this normally takes 1-3 days. You can enter all the specifications during checkout in the "notes" section, or contact us before purchase.

Is gift packaging available?

We do not offer gift packaging however our packaging is beautiful and makes a terrific gift when given as is. Please visit our gift section for gift options.

How long will it take for my order to arrive?

Production time varies from 1-3 days based on the season and is specified in a "Delivery" Section during Checkout. Once produced, all orders are shipped Priority Mail which takes 1-3 Business Days to arrive. Delays in transit are out of our control.

Are your marshmallows vegetarian?

No. Gelatin, which is one of the ingredients in marshmallows, is animal-derived.

I have food allergy concerns.

Our marshmallows are egg and corn syrup free. They are manufactured in a facility that processes dairy, wheat, soy, peanuts and tree nuts.

Which marshmallow flavors are gluten free?